Who doesn't just adore pinterest?
It is so much fun.
This week I'm sharing some of my favorite pumpkin decor ideas. There are SO many out there, but these top the favorites list. Definitely will have to try some of these this season.
Okay, so these aren't pumpkins they're oranges... but how adorable are they?!
Pumpkins embellished with black tacks.
This is so brilliant.
Love this idea for the front door step.
Linking this post up here, come join the fun!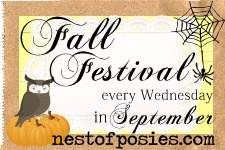 "